Shipping: USA, Canada, Australia, UK, India ... Shipping to over 55 countries
---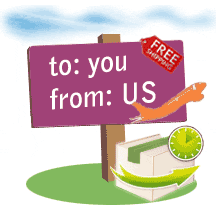 Ordering & Shipping Policy
Physician Naturals want your online experience to be enjoyable, simple and successful. We have created our ordering, shipping and payment processing, Secure and Encyrpted to make ordering easy.

Orders placed by 2 PM CST are shipped on the Same Business Day. Orders by Check, Money Orders or Fax orders are shipped once payment is received.

Please note: Any order placed on Sunday or a national holiday will be shipped on the next business day.
---
Below are the shipping options
SAME Day Shipping by United States Postal Service (USPS)

on All Orders Received by 2 pm CST

.
WE Also SHIP to PO BOX
address (USA and International)
Shipping

Rates

USA

USPS First Class

(FREE Shipping Orders over $49)
$3.95
USPS Priority Expedited Shipping
$8.95
USPS Priority Express Overnight
$28.65

(1-2 days)

---

Canada

USPS First Class (10-14days) May vary based on customs Limited Tracking
$9.95
UPS Global Standard Guaranteed (5-7 days) Detail Tracking No PO Boxes
$19.95

(5-7 days)

UPS Global Expedited (4-5 days) Does not Ship to PO Boxes
$29.95

(4-5 days)

---

International Orders - (to over 55 Countries)
USPS International First Class (10-15 days) May vary based on customs Partial tracking (ships to PO Box)
$19.95
UPS Global Expedited (5-7 days)

Recommended

(No PO Boxes)
$39.95

( 5-7 B.Days )

---

All International Orders are Shipped the Same Business Day the order is placed.

USPS International First Class: Limited tracking available after leaving USA 10-15 days delivery. Sometimes packages maybe delayed byt always delivered. International Delivery rate 99.9%

*UPS Global Standard/Expedited: Detailed Tracking and Guaranteed delivery time . Most Deliveries within 5-7 days of shipment. Recommended for International Shipments

---




Shipping to over 55 countries including United Kingdom, Australia, Great Britain, Greece, India, Denmark, France, Hungary, Austria, Norway, Switzerland, Spain, Brazil, Italy, Israel, New Zealand, Croatia, Costa Rica, Romania, Poland, Japan, Netherlands, Malaysia, Hong Kong, Belgium, Sweden, ++++
DELIVERY
Texas

2-3 days
USA 3-5 days
Internationa

l First Class 10-15 business days or More Varies with each Country
(International delivery time may vary sometimes depending on the local customs and postal services)
RETURNS . If you are not happy with our product, return within 60 days of purchase of any Unopened bottle and we will issue FULL REFUND ...No Questions Asked. International returns shipping charges paid by customers
For Service or Product related issues please e.mail service@physiciannaturals.com or call 800-PURE-111 Estimated delivery time for items we have in stock is from date of shipment. Physician Naturals will not knowingly ship any products to any countries that may require any type of license. Because of increased vigilance in Germany, we no longer ship to Germany.
Please note: Physician Naturals reserves the right to change the shipping method at its own discretion and expense. Physician Naturals is not responsible for delays caused by weather or other natural disasters.

Also Note USA Overnight Shipping & Handling - While most orders do ship on the same day, depending on when your order is received, some will be shipped on the following day. You will receive your order 1-2 days after the order has been processed, which in most cases is within 24 hours.
We do not ship orders on holidays or Sundays. A signature may be required for your deliveries. Back Orders In the unlikely event that any items in your order are unavailable for immediate delivery, we will ship the remainder of your order immediately and ship the balance when it becomes available (with no additional shipping charges). Ordering Methods
Online

Shopping Cart

Phone

800-PURE-111 (787-3111)

International 1-832-295-9440


Fax

1-832-603-4120 (Domestic or International)

Mail

Physician Naturals

1302 Waugh Dr #854
Houston, Texas 77019
USA
Order Status and Returns Email or call us 7 Days a week 800-PURE-111 service@PhysicianNaturals.com

Payment Options On-line orders can be paid by Credit Card, Debit Card and PayPal. We accept the following Credit & Debit cards: VISA, MasterCard, Discover, and American Express. We also accept most bank VISA or MasterCard debit cards. Orders sent via mail can be paid by credit card.