Additional Discount: Buy 1 Get 2nd 10% Off

Mega Potency Super Curcumin 1000 mg Time Release Enteric Coated w Bioperine and Flax Seed Oil 10X Absorption
Bioavailability & Absorption



Condition: New
Curcumin w Time Release, Enteric Coated, Flaxseed & Bioperine.
No GMO, No Soy, No Dairy, No Gluten, No Preservatives.
The Most Bio-Active Curcumin Supplement
Made in USA with select ingredients.
» The lowest cost per 1000mg of Pure Curucmin -click to view the chart
Due to Current Crisis Quantity is Limited to 10 per Customer
Now Only
$34.95
Regular Price
$45.20
Buy 5 for

$33.25

each and save

5

%
Buy 15 for

$31.50

each and save

10

%
Super Curcumin Time Release w Flax Seed Oil Enteric Coated - Bioperine 10X
Enteric-Coated Super Curcumin C3 Time Release 1000 is an exceptional bioavailable Curcumin supplement formulated with Bioperine piperine and infused with Flax Seed oil now with smaller tablet size. This Mega Potency turmeric extract with its proprietary formulation and four components Time Release, Bioperine, Flax Seed Oil and Enteric Coating delivers mega dose Curcumin which may helps ease pain. ... This makes it an ultimate absorbing Curcumin supplement with 10x absorption as compared to standard Curcumin.
---
This is Simply the #1 BioAvailble Curcumin supplement today.
---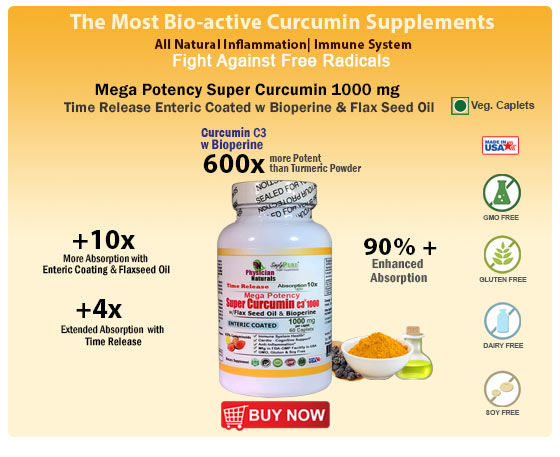 Mega Potency Super Curcumin Caplet. Similar curcumin supplements claim to contain 1000-1500mg per serving, which is possible only by ingesting two to three capsules at a time. With Physician Naturals Mega Potency Super Curcumin C3, you get the entire 1000mg dosage in ONE caplet.
Exclusively Patented Curcumin C3 Complex. Physician Naturals uses exclusively patented Curcumin C3 Complex, 100% all natural curcuminoids. This compound is far superior than regular 95% curcuminoids currently sold in the market. It is used in most research studies all over the world due to its high quality composition. The sustained Time Release delivery facilitates better absorption and dispersion at higher dosages over a longer period of time releasing it to the brain, liver, heart, lungs
Combined with BioPerine and Flaxseed Oil with Time Release for Maximum Absorption. BioPerine is an extract obtained from black pepper fruit that is used to enhance the bioavailability or absorption of Curcumin into the body. Flaxseed oil is rich in Omega-3, and has many health benefits. Together with BioPerine, Flaxseed oil makes curcumin easily absorbed and transmitted into your bloodstream and into the different organs of your body.
Enteric Coated Caplets. Each caplet of Mega Potency Super Curcumin C3 is designed to pass through the acidic environment of your stomach without causing irritation or bleeding. They only dissolve in your small intestine, where they are readily absorbed into the bloodstream. This also means you don't get heartburn or upset stomach from taking these supplements.
Premium quality ingredients with no fillers or binders. Physician Naturals proudly manufactures and distributes our own supplements. Every caplet you take contains premium quality and pure Curcumin C3, with no GMO, soy, gluten, synthetic curcumin or fillers and binders to deliver the best, most effective health benefits that is definitely worth your money.
---
Patented Curcumin C3 is extracted from organic turmeric root contains the highest antioxidant concentration. The Mega Potency Super Curcumin is a super-pure, super-bioavailable and ultimate super-supplement.
The enteric coating protects the capsule from damaging stomach acids, so it is best absorbed by the intestines. Intestinal-absorption readily places Curcumin in the blood stream where it circulates to the waiting organs.
This sustained Time Release delivery facilitates better absorption and dispersion at higher dosages over a longer period of time releasing it to the brain, liver, heart, lungs and higher doses of antioxidant benefits.
Flax Seed Oil precipitates better mix of the fat soluble curucmin for increased absorption and assimilation in the system
How many 1000 mg tablets does it take to achive the same blood curcumin levels as "mega potency super curcumin C3 1000 mg enteric coated time release with bioperine and flax seed oil"?


---

Mega Potency Curcumin Absorption Levels Chart
---
Curcumin Turmeric with Flax Oil
The fatty oils, such as olive and flax seed oils, aid in the uptake of Curcumin. Instead of swallowing the capsule with a spoonful of oil, the Mega-Potency Super Curcumin is bonded with flax seed oil inside. The mess and aftertaste are eliminated, but the best absorbing Curcumin benefits remain.
SimplyPure Mega Potency Super Curcumin is the only Curcumin supplement infused with flax oil and no added fillers. The caplets do not contain shellfish, sugar, starch, yeast, salt, corn or soy. This Super Curcumin has a shelf-life of over 3 years and does not contain preservatives. Gluten, Soy and Dairy Free and those concerned with GMO's. Super Curcumin is GMO-free.
Bioperine
Another ingredient that helps Curcumin penetrate the blood stream is Bioperine extracted from black pepper fruit. Bioperine promotes better absorption and transportation of Curcumin through the intestines and into the blood stream.
---
Dosage
Take one (1) or two (2) caplets with a meal or consult a physician before use.
---
Disclaimer
*These statements and products through this website have not been evaluated by the Food and Drug Administration and are not intended to diagnose, treat, cure or prevent any disease
Label Dosage
Supplement Facts
Serving Size: 1 caplet
| | |
| --- | --- |
| Amount Per Serving | % Daily Value |
Curcumin C3 Complex®
(Min 95% Curcuminoids Turmeric rhizome extract) (containing Curcumin, Demethoxycurcumin & Bisdemethoxycurcumin)

1000 mg*

Flax Seed Oil

100 mg

Bioperine (black pepper fruit extract)

6 mg
† Daily Value not established.
DOSAGE: As a dietary supplement take one (1) or two (2) caplets with a meal or consult a physician before use.
Other Ingredients: Micro Crystalline Cellulose, Methocel, Stearic acid, Mag.Stearate.
DOES NOT CONTAIN sugar, salt, starch, yeast, gluten, corn, soy, shellfish or preservatives, Dairy.

Dairy and GMO Free.
Curcumin C3 is a Patented Product of sabinas Crop. U.S patents No. 5861415, 55365506
Store in a cool, dry place. Please Recycle.
We found other products you might like!